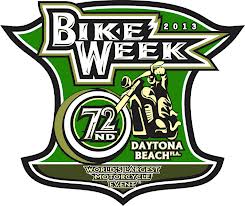 Start Preparing Now for Daytona Bike Week 2013
Colder weather is now upon us, but that just gets our team thinking about warmer weather and Spring. As much as we enjoy our winter sporting activities, we're just as ready to get back onto our motorcycles so we can enjoy the open road. One of our favourite warm-weather places is Daytona, Florida, home of Daytona Bike Week. This is an annual festival that bring motorcycle enthusiasts from all over North America to join together for great fun and new products. It's never too early to get ready for a warm vacation. Whether you like to ride your motorcycle and pull your wares behind you or pull your motorbike behind your truck, now's the time to consider buying a new or used enclosed trailer or prepping your currently owned trailer to get there.
There are many great enclosed trailers on the market to consider. Let's start with the ones that you can pull behind your motorcycle on the open road. Aluma offers an MCT and an MCTXL, both are fairly lightweight offer effective, sealed storage options as well as rack storage on the outside of the unit that's ideal for more bags and/or coolers.
Chances are, if you're driving the distance we are, that you're going to need something with a little more room! Carmate offers cargo trailers that can be customized on the inside and out and each has plenty of room for storage of your motorcycle, extra equipment that may be needed for on the road or at Daytona Bike Week and more.
The first trailer that we should point out is the Carmate Pup Tent, a unique trailer that easily doubles as convenient storage unit on wheels, as well as temporary living quarters. It's available in either a twin or double and features an RV-styled door. Not only would it be great for Daytona Bike Week, but many find it a great option while hunting, camping and just enjoying travel and staying in the great outdoors.
Other Carmate cargo trailers to consider include the Sportster series. These units are smaller in nature and feature a smart look with the aluminum stone guard. Like any Carmate trailer, the interior can be outfitted with shelves and other custom options that make these trailers a must-have.
Larger Carmate trailers can haul more than one bike, motorcycle accessories and have more room for necessary equipment that you'll need for Bike Week festivities. Ask about electrical options, custom exterior designs as well as features that can be added to the interior for a custom look and feel.
We encourage you to check with your local utility and cargo trailer dealership who can help you choose the best hauler for Daytona Bike Week. After all, it's never too early to start preparing for the Spring months ahead!
Get a Quote Now